EXP Client Firmenich Wins 2017 DuPont Safety & Sustainability Award

Posted 2 months ago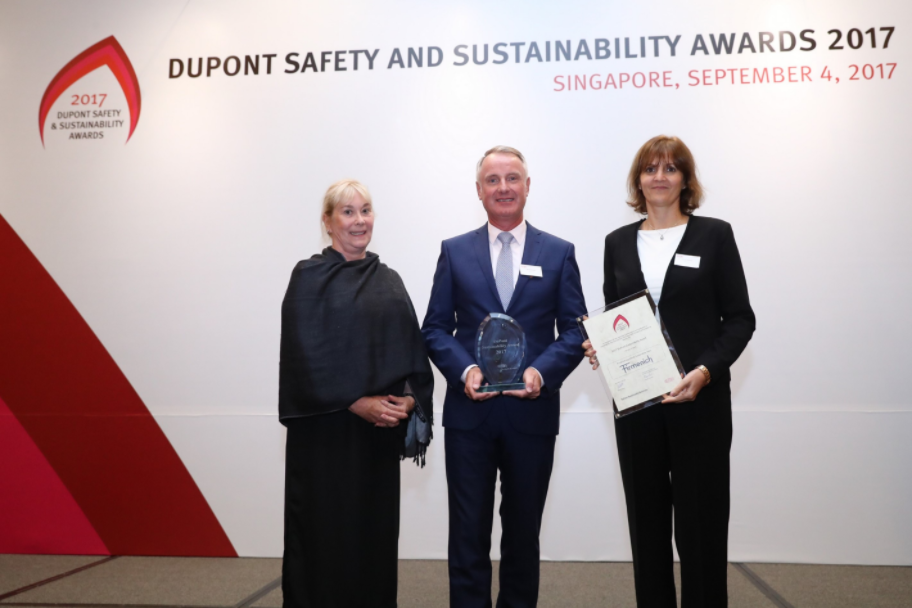 September 15, 2017, | New York, New York – Firmenich, the world's largest privately-owned fragrance and flavor company was among the winners of the 13th Edition of the DuPont Safety and Sustainability Awards, which recognize exceptional ingenuities toward workplace safety, operational efficiency, and sustainability.
Firmenich received the esteemed Global Sustainability Award for their Ingredient Sustainability Index, which reports and measures the environmental footprint of hundreds of ingredients in full transparency.
Firmenich's CEO, Gilbert Ghostine stated in their press release, "We are very proud to be the only company to have won all three DuPont awards, recognizing our constant pursuit of excellence in sustainability, operational excellence, and safety."
Firmenich's Senior Vice President, Quality, Health, Safety, Security & Environment, Neil McFarlane stated in their press release, "Our ambition is to keep on striving for transparency by expanding the Firmenich Ingredients Sustainability Index, because we know the way products are sourced and manufactured is of utmost importance to our customers and their consumers."
"We are extremely proud of Firmenich's achievement of receiving the Global Sustainability Award for their Ingredient Sustainability Index," stated Sree Velicheti CEO of EXP, "We are proud to partner with a company who holds themselves to such high standards, and wishes Firmenich continued success in their pursuit of QEHS excellence."
The Firmenich Ingredients Sustainability Index was designed to enable the Group to make key sustainability decisions on raw materials sourcing, manufacturing process improvements and product development. Today Firmenich measures and reports the environmental and health profile of more than 400 ingredients throughout their lifecycle, with new ingredients being added every year. With its Ingredients Sustainability Index, Firmenich aims to demonstrate to its customers how it measures its ingredients' life-cycle and how it can improve its processes to continually reduce its impact.
About EXP
EXP delivers award winning enterprise Quality, Health, Safety and Environment (QEHS) management systems. Since 1999, EXP has deployed software platforms for clients in over 100 countries, including some of the most admired global companies. EXP's customers are consistently recognized globally for their world-class QHSE programs. More information about EXP is available at www.exp-inc.com
About Firmenich
Firmenich is the world's largest privately-owned company in the fragrance and flavor business. Founded in Geneva, Switzerland, in 1895, it has created many of the world's best-known perfumes and flavors that billions of consumers enjoy each day. Its passion for smell and taste is at the heart of its success. It is renowned for its world-class research and creativity, as well as its thought leadership in sustainability and exceptional understanding of consumer trends. Each year, it invests 10% of its turnover in R&D, reflecting its continuous desire to understand, share and sublimate the best that nature has to offer. Firmenich had an annual turnover of 3.2 billion Swiss Francs at end June 2016.
About DuPont Sustainable Solutions
DuPont Sustainable Solutions (DSS) is a leading provider of world-class operations consulting services to help organizations transform and optimize their processes, technologies and capabilities. DSS is committed to improving the safety, productivity and environmental sustainability of organizations around the world. Additional information is available at: www.sustainablesolutions.dupont.com.
About DowDuPont Specialty Products
DowDuPont Specialty Products, a division of DowDuPont (NYSE: DWDP), is a global innovation leader with highly differentiated materials, ingredients and capabilities that help transform industries and everyday life. DowDuPont Specialty Products includes five technology-driven businesses: Electronic Technologies, Industrial Biosciences, Nutrition & Health, Protective Solutions and Sustainable Solutions. Our employees apply diverse science and expertise to help customers advance their best ideas and deliver real-world products and smart solutions across multiple high-value markets. DowDuPont intends to separate the Specialty Products division into an independent, publicly traded company. More information can be found at www.dow-dupont.com.
Please follow and like us: